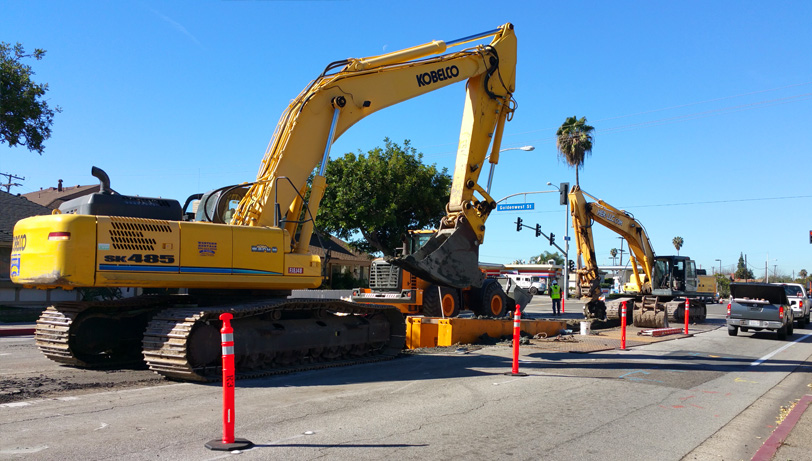 With 90 years combined experience in the installation of underground utilities such as Water, Fire, Sewer and Storm Drain Systems, the founders of R3 Contractors excel in projects that require a high level of technical know how in the planning and execution of projects such as; High Density In-Fill and Multi-Story Podium Deck projects. Other specialties include; Storm Runoff Containment, Recharge Well Systems, Sump Pump Systems and Hazardous Site Clean Up.
R3's typical projects range from the mid $200.000.00 up to the $5,000,000.00 plus range. We are also available for those "special projects" that always seem to pop up on every job.
R3's ability to consistently bring projects in, on time and on budget, keeps them at the top of the bid lists of the major Southern California developers and general Contractors. Please contact us for additional information about our company, including a current project list. We look forward to assisting you with your upcoming projects.
R3 Projects
Date: 10/13    
Project: Green St. Apts
Location: Pasadena
Value: $306,255
Date: 10/13
Project: Kensington Ass. Living    
Location: Sierra Madre
Value: $266,365
Date: 10/13
Project: Perris Valley Log. Shell/Site
Location: Perris
    
Date: 12/13
Project: Wal Mart - Indio
Location: Indio
    
Date: 4/14
Project: Wal Mart - Palmdale
Location: Palmdale
Value: $949,245
Date: 4/14
Project: Wal Mart - Indio
Location: Indio
Value: $2,249,700
Date: 5/14
Project: Smart & Final    
Location: Fountain Valley
Value: $47,450
Date: 6/14
Project: WLC 156
Location: Carson
Value: $838,880
Date: 7/14
Project: Wal Mart - Perris
Location: Perris
Value: $1,809,530
Date: 9/14
Project: ALBERS Bus. Park
Location: Chino
Value: $475,955
Date: 8/14
Project: Heil Sewer Improvements
Location: Huntington Beach
Value: $764,502
Date: 9/14
Project: UPS 5 AcreParking Lot Expansion
Location: Ontario
Value: $384,432
Date: 9/14
Project: UPS Air Recovery Expansion
Location: Ontario
Value: $384,432
Date: 9/14
Project: ALBERS Bus. Center Phs. 1&2
Location: Chino
Value: $475,955
Date: 9/14
Project: Vistara Apts
Location: Ontario
Value: $1,133,120
Date: 9/14
Project: G-8 Sewer Laterals
Location: Los Angeles
Value: $393,250
Date: 10/14
Project: Del Lago
Location: Los Angeles
Value: $1,272,890
Date: 10/14
Project: Chatsworth Comm. Center
Location: Chatsworth
Value: $629,450
Date: 1/15
Project: Alta 5550 Hollywood
Location: Los Angeles
Value: $66,700
Date: 1/15
Project: Oakmont Santa Ana Warehouse
Location: Fontana
Value: $1,222,500
Date: 1/15
Project: Sepulveda Prkg. Structure Restroom
Location: El Segundo
Value: 45100
Date: 2/15
Project: Escondido
Location: Escondido
Value: $688,465
Date: 2/15
Project: Ewing Poway/Irrigation
Location: Poway
Value: $53,820
Date: 5/13
Project: Pacific Point South
Location: Long Beach
Value: $265,981
Date: 12/5
Project: Stone Creek Casitas
Location: Chula Vista
Value: $912,430
Date: 6/14
Project: Athens Services Recovery Station
Location: Sun Valley
Value: $589,268
Date: 11/3
Project: B & B Plastics
Location: Rialto
Value: $653,510
Date: 12/3
Project: Desert Dunes
Location: Cathedral City
Value: $5,168,600
Date: 1/24
Project: Mcdonald's Orange
Location: Orange
Value: $24,150
Project: The Shores
Location:  Marina Del Ray
Project: Boardwalk Apts
Location: Huntington Beach
Project: Camden Glendale Triangle
Location: Glendale
Project: Manhattan Beach Library
Location: Manhattan Beach
Value: $172,545
Project: Desmond & Wilshire
Location: Los Angeles
Value: $279,920
Project: Fairfield Inn
Location: Carlsbad
Value: $299,150
Project: The Blvd.
Location: Woodland Hills
Project: Glendale Project
Location: Glendale
Project: Tahiti Way
Location: Marina Del Rey
Project: Rancho Vista Town Center
Location: Palmdale