About Eugene Figueros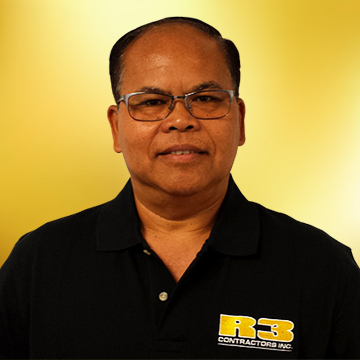 Construction Superintendent, Project Manager
Email: eugene@r3co.com
Cell: 714-713-1876
Eugene started work with R3 Contractors in October of 2013. He graduated with a degree in Mechanical Engineering at Saint Louis University, Philippines. He completed his Certificate in Construction Management at UCLA and is a registered EIT in the state of California.
Eugene's duties at R3 Contractors among others is to oversee projects from start to finish, review and sign contract agreements, prepare and maintain construction budgets, prepare and maintain construction schedules, review and approve third tier subcontracts, review and approve material buy-outs, review, negotiate, approve change orders, coordinate project specific matters between R3 Contractors, clients, and field crew. To oversee preparation of pre and post construction documents and to assist the estimating department in bid preparation, negotiation, and marketing.
History:
2013 to Present- R3 Contractors, Construction Manager
2010 to 2013- Kana Pipeline, Project manager for commercial, industrial, residential & multi-unit apartment developments, and public work projects
2000 to 2010- Southern California Pipeline, Project Manager for commercial, industrial, residential & multi-unit apartment developments, and public work projects
Skills:
Eugene is very knowledgeable and experienced in all aspects of wet utility construction, from estimating, negotiating, budgetary, and scheduling to implementation. He also has vast knowledge in governmental requirements and compliance, as well as coordination experience with various governmental agencies.
OSHA 30‐Hour Training
LEED AP: LEED Certified project experience
CSI‐CDT
FEMA ‐ 700
AutoCAD, Prolog, DataCAD, Sketchup, Word, Power‐ Point, Excel, Access, D‐Profiler
Primavera P3
Strong MEP skills including HVAC and Site Preparation
Eugene, having the maturity, stable temperament, and an analytical, objective mindset has set goals at R3 Contractors. He says that he wants to be a major force in bringing R3 Contractors to the next level of excellence. He feels his wide, varied, practical experience in various fields and phases of construction management and the dedication to make things happen to benefit the client and the company are goals that are admirable as well as achievable.
Eugene lives in Riverside, California and is a devoted Christian with his wife and children. He is a member of his church choir and loves to sing and dance with his wife. Eugene likes travelling with family and friends, works out in and out the gym and road cycles regularly. He likes downhill / all-terrain cycling and winter skiing. Eugene says he's contemplating sky diving next.
Eugene's R3 Commitment:
"I promise your job will be organized and well managed. My goal is to complete your job and make your project successful"